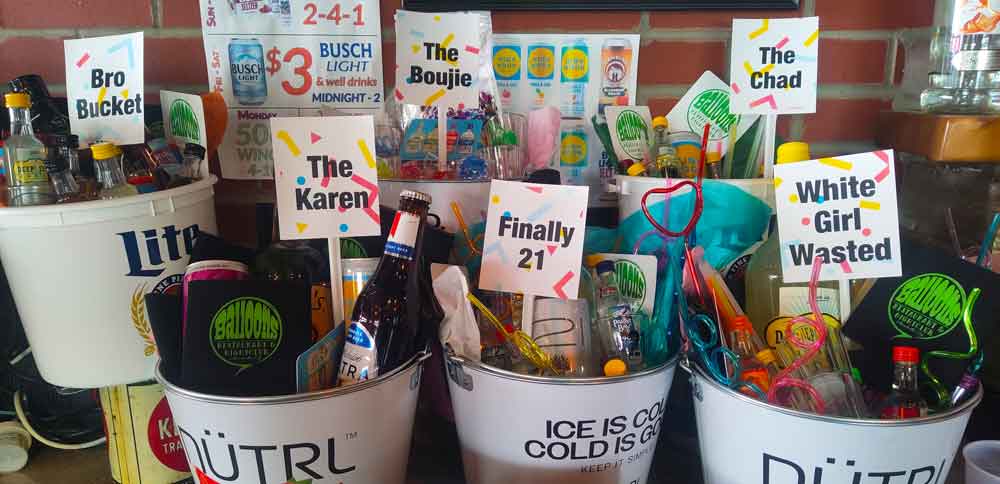 We offer a variety of bottle service packages for any occasion. They are available for purchase in the bar, or you can reserve them ahead of time to make your night a memorable one!
Finally 21
Bottle of tequila, 12 mixed mini shooters, 12 shot glasses, 12 twirl straws
$300
The Karen
Bottle of Tito's, 12 Michelob Ultras, 1 High Noon & 1 Bud Lite Seltzer, 12 hand sanitizers
$325
Bro Bucket
Bottle of Jack Daniels, 4 Jack Daniels cocktail glasses, 12 koozies, 12 party poppers, 12 mixed mini shooters
$300
The Boujie
12 High Noons, blinking rings, glow sticks, ding-dong shot glasses, penis confetti, sash for the bride, 1 bottle of prosecco, tray of 12 green tea shots
$400
The Chad
12 High Noons, 12 Deep Eddy shooters, 12 shot glasses, glow sticks
$300
White Girl Wasted
Bottle of Deep Eddy Lemon, 12 Pink Whitney shooters, 12 koozies
$250
Fill out this form to reserve a bottle service package. Packages also come with use of our private window room if it is available.
One of our staff members will email you to confirm your reservation. Please note, this is to reserve bottle service packages only. If you would like to make a reservation for dining, let us know in the message, and we can make one for you as well!